Welcome to the Jupiter Elite Hardscape Team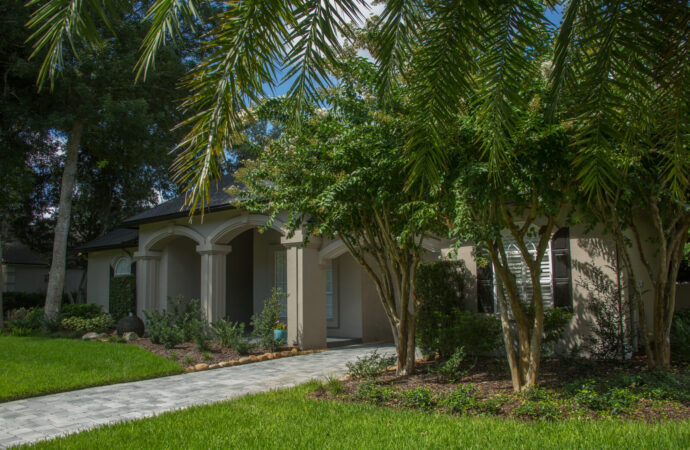 It can be difficult to improve your home or personal space, maybe one you share with your employees or other people if you don't rely on capable and professional hardscape contractors that understand your needs and are able to bring every detail to life for the final result to be clean and beyond your expectations. This is especially true if you are looking to bring a new style and look to your outdoor spaces while relying on hardscaping and all the features that come from this option. Jupiter Elite Hardscape Team is able to provide all services in hardscaping and will help you ensure your outdoors are as stunning as you always wanted and beyond.
Our team can help you design your outdoor living area and create a unique space for you and your family where you can all spend time and enjoy the day without any issues, even at night. With our team of talented contractors, the high-quality materials, and the affordable prices we offer, we will help you create the outdoor space that you have always wanted without having to go over your budget for it.
Because hardscape involves so many options and elements, it is very difficult to manage the installation or design of even one of the features available and for most people to guarantee a good result that will stand out and bring happiness to the client or person that requested it, the challenge will be tremendous as most "experts" only end up considering the aesthetics not the longevity in the process. 
You will want your outdoor space to look beautiful and functional, which is where the difficulty lies, as most people only pay attention to the aesthetical part and forget about the functional and long-lasting ones. Make sure you have contractors who are familiar with how each feature should be done so you can have the best experience regardless of the outdoor feature or hardscape one you request for your space.
You can trust our hardscaping contractors to assist you with every step, and you can rest assured we will go over all the elements you need: advice, guidance, and assistance to you in choosing all features to then start working on how we can design them, so everything fits perfectly in place.
Our experts' focus is placed on your needs and assisting you in making the right decisions, so if you don't have a good idea or have doubts about the feature you want to request, leave it to us and let us know your concerns in the process and even before we begin the project itself. This will allow us to bring a design that truly adapts to your style and won't be an eyesore to you in the short and long run.  
With more than 15 years of experience in this field, we can provide a range of services and solutions, including commercial hardscapes, pool decks, outdoor kitchens, and water features—to mention a few. We also have all the experience and knowledge about landscape lighting and how we can ensure every part of your outdoors looks amazing, even at night, since we know how many people underestimate this process and forget to include all the required features.
We are also able to help with other features and installations or constructions, such as using pavers and dealing with pool decks; the latter is often thought to be only suitable for apartments—buildings—condos, or homes. We can work with anyone with the space and who is interested in hardscaping. If you own a property or a building that you think would be beautiful with a hardscape feature, don't hesitate to call us and reach out to our team so we can start planning the process and allow our hardscape contractors to take part in how every part of the process works.
Unlike other contractors in this industry, we want to make sure you are capable of making good decisions and have outdoor living spaces that will bring happiness and even less work since hardscaping, compared to what some consider "softscape"—features and additions such as plants, trees, and all green—are more durable and require less maintenance. Not to the point of forgetting about them, but you won't have to dedicate every week or month to them.
Hence, we work hard to guarantee that you have a design that satisfies your needs and preferences while also working on how we can make the result durable and long-lasting. This is why we're confident that to every person in Jupiter and nearby areas, we're the right experts.
Before Deciding, Learn About Hardscape
Before you take this step and go over all the options available, it is important to understand what you're dealing with and considering before anything else. Therefore, we are here to go over some facts to help you understand what hardscape is and why it is favored by most people in Jupiter.
The essential concept is: hardscape is different from what you might see in patios or most green areas for the very reason they are green, as most people prefer plants, trees, flowers, and similar elements that are usually part of what people consider 'softscape.'
However, if you're the type of person that love those features yet is considering adding a staircase, pergola, or fountain to your outdoor space, this needs to be included in what is known as hardscape as the materials, tools, and everything used or needed during the process of including it are different.  
Jupiter Elite Hardscape Team can help you make informed decisions about the design, elements, and all your choices regarding hardscaping and allow you to choose what should be done depending on your needs, preferences, and the space you have available.
You should review all the options before you take the step, so you're confident about your decision. Since we want you to be satisfied and happy in every aspect, we will guide you through this process and bring several options and help you understand each of them.
That being said, we can work with over ten different features, which allows you to have reliable and capable hardscape contractors taking care of your project. These are only some of the hardscape features we can handle for you: pergolas, pool decks, outdoor firepits, outdoor kitchens, water features, and driveways and walkways.
Our Team Is What You Need
We are proud to be the most experienced and qualified hardscape contractors in the area to ensure you're able to work around your preferences and needs outdoors without worrying about quality and if your investment will last many years and decades. 
We are proud of our expertise and experience thanks to how much effort we put into growing, improving, and ensuring our contractors have top-quality materials in the industry so the quality can begin right in the elements used for the project.
Our contractors are more than qualified to take care of the projects regardless of the outdoor areas you own or where you need us to perform our services. As you request one specific, we will assign the contractors who are experienced the most in that feature. Although all our members know what needs to be done, we love working with specialists in every type of hardscape design and element; this is why we worry about having more than one or two for each service so the warranty of having a durable and stunning result can be provided to anyone.
Our contractors have been installing hardscape features for over eight years at least, which allows us to advocate for them when they're bringing their experience to your outdoors.
Depending on the problem you are facing in your space, hardscape can be used for many purposes, and we are here to bring all the solutions and alternatives around them so you can have a reliable expert working on what needs and must be done. It is our responsibility to help you solve them so you can enjoy the outdoors without worrying about it in the long term or having to invest more time and resources than necessary.
Our team will be there to help you. Each of our members has not only the expertise and qualifications but also the best materials, tools, and insurance to protect your interests in every aspect and them in the process. Hence, you can rest assured every part of the project will be handled accordingly and without risks.
If you are not confident about your selection, what feature would be best, or how you can tackle or begin this journey, remember that our contractors are there to guide you through this entire process and make sure you don't have to struggle but rather enjoy the experience and end up being satisfied.
We Are Here With The Services You Need
You will find many benefits to the hardscape as long as you take the time to go over the internet to do your research and allow experts to guide you in this process. This will allow you to have a great understanding of what's better for your outdoor living space or not and how you can bring something new without risks in the short and long term.
Our team will go over all the details and elements of each of the hardscaping options so you are able to enjoy the experience and make well-informed decisions that won't affect your outdoor beauty and quality.
To make sure our clients have everything they need and are able to rely on experts like us, we have made sure to have specialists in every aspect and area of hardscaping so you can come to us, select a service, and rest assured a professional will be there assisting you for everything.
Our services have evolved over the years to make sure you get the most out of your investment and that you can find us and allow the team to be the ones handling the projects. Thus, you will see our long list of services below: 
Small or Not, Your Space Is Perfect
We never get tired of mentioning that hardscaping is possible in any outdoor space; it can be done in small and large areas, and you won't have to quit the idea just because you don't have a golf course as your outdoors. Because it's a matter of how you use the space, our team can offer the services no matter how much space is available, and we'll make sure to get you a design and options that will satisfy your preferences and needs and bring happiness to your outdoors and how you can enjoy them from now on.
We don't fear but are excited about every case, so instead of having hardscape contractors who will see your project as a challenge, rest assured we will be more than happy to offer assistance and work on it with our hearts and the confidence that people know us for. We are dedicated to providing the best possible results, no matter what your request is.
To make sure the outdoor living space you have can have a good design, you have to be aware of the space whatsoever. Some owners consider there's enough room for some features and designs, but they are far from what can actually be done. Allow us to guide you and bring the best based on what your space allows, what you want and need, and everything together, but without going over what is actually possible or not.
How Can You Access Our Services?
You only need to call, email, or visit our offices, where our team will be happy to offer all the information and assistance needed for your projects and requests. We have been providing our services for over 15 years to all Jupiter businesses and residents so they can rest assured and have qualified contractors near them for every project.
Our experienced and qualified hardscape contractors are available at many locations around the city. They will be happy to assist you and even travel to nearby cities and locations to deliver the service and experience needed.
We will visit your outdoor living space so we can have a good idea about the dimensions and what you currently have—or don't have—and work around the availability of all the features and how they can be installed or included in your design. However, you are always free to bring recommendations; let us know what you want and need, and we will focus on those factors above anything else.
Let us know if you have any ideas, and we'll gladly assign a contractor for your project. Keep this in mind, as our team will provide guidance and support to help you make the right decision about what you want and how you can achieve it.
Our first visit to your property or outdoors is free as we only want and need to assess the space and how much work and time it will require. From there, we will start to determine how much you will be spending on the project. If you have a budget, we are fine with it and will adapt to it, so you are comfortable with the investment and happy with the result of it.
However, if you are starting and aren't sure about what you want or need and are having a hard time trying to bring the entire project together, we can still provide full service and assistance by offering guidance and a good idea of what can be done in your space or not.
Otherwise, if you bring a specific idea and don't know how to work around it or just need us to bring it to life. You can always rely on us to get it done and guide you in how it must be done and why.
We are here for more than just bringing you an idea and making you work around it. You are the one that matters, has the goal, and we want to make sure you're happy as our professionals at Jupiter Elite Hardscape Team bring everything to perfection. 
Below is our list of additional services:
Here is a list of our services you can get at Jupiter Elite Hardscape Team:
---