Expert Irrigation Installation & Repair Services in Jupiter, FL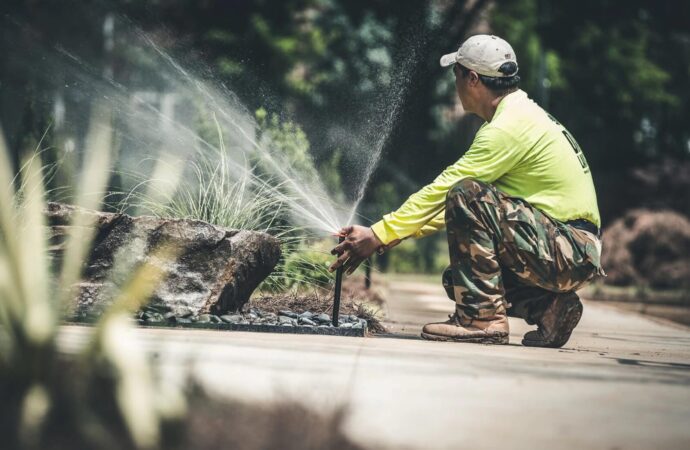 You need a well-designed Irrigation System that can function efficiently. What if we told you that we can install an Irrigation System that can improve the efficiency of water-use by carefully plotting locations for your Irrigation System, focussing on water distribution? Our designs guarantee the maximized water-use, ensuring lower cost, and efficient use of water resources.
Your irrigation installation system should be optimized for efficient distribution and effective moisture coverage. The Distribution Uniformity (DU) should be kept at 80% or higher. The design should cater to different kinds of landscape, including slopes and flat surfaces. Besides, when designing an Irrigation System, you must ensure that the operating pressure of the Irrigation System is kept lower than the source pressure available. It should also consider the peak-use times and supply-line pressure. Not to mention, the design must meet existing standards. Remember to flag underground cables and pipes before you start installing your Irrigation System!
Unsure of whether you can handle the entire project by yourself? Maybe you aren't so keen on your designing skills or decision-making skills? This is exactly why we are extending our services to you! Introducing, Jupiter Elite Hardscape Team. Our team consists of highly trained professionals who are capable of support you with your landscaping needs. Communicate to us your ideas or visions of how you would like your landscape to turn out. Also, include your budget allocation for this project. Then, our team will get cracking on some design proposals for you to choose from. 
Before you decide, we will also explain to you the reasoning behind the concept of each design. If there are no designs which meet your expectation, let us know and we will have our designs refined accordingly. Take your pick on which landscape design to bring to life in your very own yard! Once a design has been confirmed by you, we will immediately dive into your landscape project.
Below is our list of additional services:
Here is a list of our services you can get at Jupiter Elite Hardscape Team:
---