Landscape Lighting Installation Services for Jupiter Residents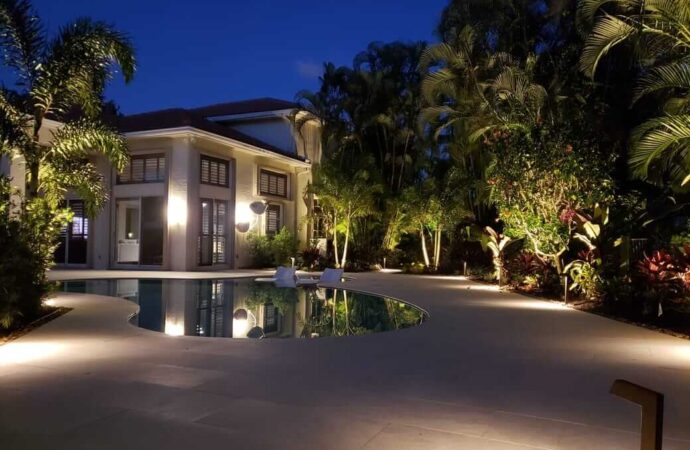 Landscape lighting is an important aspect of outdoor living spaces, especially if you truly care about how stunning your space looks not only during the day but also at night. If you want to create a beautiful space that is both accessible and enjoyable, then you need to be aware of its importance and how proper lighting will keep the space safe and comfortable for everyone. At Jupiter Elite Hardscape Team, our team knows how important it is to have all the details covered and how our contractors need to keep landscape lighting in mind and deliver excellent results, regardless of the circumstances. If you are considering putting in the effort, let us know by answering a few questions when contacting us:
Are you familiar with your outdoor spaces and why they need lighting?

Is there any example or design you have in mind and would like us to bring to life in your outdoor living space?
Lighting is essential for landscape design. Without it, you will not be able to bring out the best of the space. Put simply, you can't bring beauty, functionality, or enjoyment together and won't be able to have good luck with every feature and part of the outdoors as properly as you should. This lighting feature is essential to maximize your outdoor living spaces. It should be included with any hardscape or design options, which are often forgotten or ignored by contractors in the city, except us.
We can design a complete outdoor space and improve it. Smart lighting can give you a new perspective on the outdoors that you might not notice during the day. This will bring a unique dimension to the design and will create an atmosphere that is appreciated by everyone who uses the space.
It Takes Experience & Talent to Do Landscape Lighting
Lighting is much more than simply putting lights around the place and hoping they work and light up every corner or the path you have to take to reach some areas in your space.
If you have a space that has only been lit in specific spaces and you barely appreciate the features and elements you have installed, remember that this often happens when people don't focus on lighting properly and instead of thinking about it in a landscaping manner, they just consider it as a way to keep some areas bright. This would make the lighting as easy as placing light bulbs around the property and placing reflectors everywhere when it actually isn't.
Lighting is not just about putting a lightbulb somewhere and expecting it to work. This is a waste of time. If your goal is to create a new outdoor experience, you will not get a great result by simply working around the basics that don't even cover the functional part of working with this feature. You must use the correct lights to illuminate every hardscape element or feature in your outdoor space, so you have a different design, style, and landscape.
It's all about making outdoor features stand out. Many pools have excellent lighting, for instance, and we are sure you've appreciated them in other spaces you've visited or maybe while looking at some pictures on the internet.
This shows that landscape lighting can transform the mundane into something extraordinary. It can also give off a completely different atmosphere. There are many examples, and you may have seen them all while looking for inspiration.
It is always a good idea to place fixtures around and within the water, just like the pool. These will make it easier for people to see where they are and help prevent accidents. With the help of our experts, the rest can be placed however you like.
It is crucial to identify the most important elements in your landscape design. It is up to you to decide what is most important and what should be the main focus at night. We can help you plan how to highlight it with the fixtures and help you plan the placement of each piece or feature if you are not sure. Just let us know if you need more than a helping hand, and we will be more than happy to comply.
There are many lighting options available, and you can use several of them at once as long as you have our team of experts working on their placement and installation. It is just a matter of focusing on what is most important and allowing us to recommend some hardscape features to be highlighted and considered over others.
Contact Us & We Will Get to Work
Although aesthetics are important, we also care about the long-term durability of the lights. It is common for them to be outdoors, so they will be exposed to all kinds of weather, and their durability and how they stand rain, storms, sun, and more, will depend on us and the products we use while working on your outdoors. This places more emphasis on the quality and placement of fixtures and designs. Professionals are highly recommended, and we will be there as needed.
It can be difficult to light landscapes. Once we have identified the best products, tools, and materials, we begin to consider how we can make it work for you and come up with a design that satisfies you.
We do not use low-quality materials or products. Many people believe that products that are readily available in every market are sufficient, but they are often made of low-quality materials and won't be able to guarantee decades of use or several years at least with little maintenance and repairs.
We are responsible for designing and installing the system. It should be long-lasting and durable to give you the best value for your money and ensure you don't have to worry about any accidents.
For assistance in any way related to landscape and hardscape, contact us and let us know your needs. We will install your landscape lighting in a safe and compatible manner that matches the outdoor space. 
Below is our list of additional services:
Here is a list of our services you can get at Jupiter Elite Hardscape Team:
---