Outdoor Kitchen Services for Jupiter Residents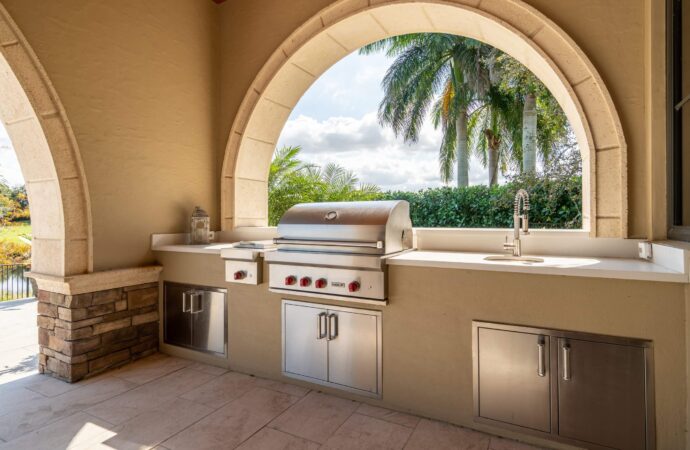 A great addition to any property is an outdoor kitchen; even if you aren't in love with cooking or doing it yourself, you will thank us once you notice what can be done with it. An outdoor kitchen allows you to cook outside and not be limited by what is available indoors. It's possible to enjoy the wonderful weather and have fun with friends and family, without them having to stay indoors or you leaving them to prepare the food. Invite your family and friends to come along and cook outdoors, and you can enjoy the beautiful space you have been planning. Our team at Jupiter Elite Hardscape Team can help you design and build your outdoor kitchen. No matter the size or shape of your kitchen, we can accommodate it.
It is possible to build an outdoor kitchen on any property, be it residential or commercial. However, it can be difficult to put everything together and ensure that the final result is not only beautiful but also durable. It is important to have a kitchen that can withstand storms, hurricanes, and regular rain, or just the weather conditions that take place in Jupiter since the sun alone can be a great issue. Of course, the kitchen will be installed in the shade and specific places, but the heat can be a crucial part to care about.
You should reduce the amount of time you spend cleaning up and preparing your outdoor kitchen as well. As we want to bring a feature, you can enjoy, not one that will bring you more work. It doesn't make sense if you can't work with it or if it takes too much time. Enjoy the new feature, and do not be distracted by more work or headaches.
When our contractors arrive, everything will be in order. There is no need to be concerned about the layout or any other elements of your outdoor kitchen.
We need to know your priorities and your budget in order to plan the best way for you to make your dreams come true. We will ensure that you are happy, address any problems that an outdoor kitchen might cause to your home, and design the space according to how you envision it.
We get in touch with our clients, or you can reach us first (naturally). Once we have discussed your preferences and needs, we will begin to determine the best fixtures and appliances for you.
How Our Team with Start Working on It
It should be enjoyed whenever you decide to build or add something new to your property, so we want to make this experience a good one. Before you call us, make sure that you have a budget. If you don't have a budget, we can help you make one.
Don't be afraid to ask for help if you aren't sure. We recommend that you have one for the simple reason that this will help to avoid unnecessary expenses and limit your options—for good. You won't have to spend more or be unable to tell when and how much is needed.
Many clients have an idea of how much they can spend. This is not the same as having a budget that helps them limit their spending. Talking to someone is a good idea if you are having trouble deciding what you want and how much money you can afford. We can help you set a realistic budget and ensure you fully understand the details about what you can get with the money you want to invest and what you don't.
Because of the location, the build method, the appliances, and labor costs, outdoor kitchens can be costly, but they don't have to be extremely expensive or quite extravagant. It is, therefore, important to determine your budget and set expectations for the project so you know how much you can spend while also worrying about how you want the design to be based on it. This outdoor kitchen can come in a variety of different designs and types. To ensure safety in your kitchen, you must take precautions as well, which we help you with by setting preventive measures.
You can make the whole process of planning your outdoor space and designing your kitchen easier with our assistance. We can help you create the perfect kitchen and ensure that it is one you enjoy sharing with your family, friends, or yourself.
Don't Try to Handle This as a DIY Project
Many homeowners, especially those who are new to the area or who enjoy outdoor kitchens as a hobby, will be happy to start it as soon as they can. Contractors can be costly and hard to find whatsoever, so we understand your worries. However, we don't recommend you become a contractor and then decide to go after the project as if you were an actual expert in it.
Jupiter Elite Hardscape Team has a highly skilled team. Although it may seem biased to recommend contractors, as we are part of a group and our own company is right before you, we do so for your safety. 
We can guarantee you that everything will be done on time, you won't have to put yourself at risk, and you can get it all for less than half the price with us, so you don't need to worry about a poor outcome or spending more time and resources on the project.
Our contractors are highly skilled and have many years of experience. If you have a time frame in mind, we will work within your budget and the time altogether. This is especially true for pergolas and other areas where people gather. We care about how you approach the project or need us to do so the kitchen is perfect. We will turn your outdoor kitchen into a reality, and all the pieces will be put together.
Our experts will help you install kitchens, even if they are difficult to install. They will connect gas lines correctly, protect your kitchen from external elements, and allow you to use your kitchen every day.
These hardscape features can be very labor-intensive. We don't want to make you worry about repairs or maintenance. Our experts will do all the necessary work to install your appliances and protect your kitchen from any damage during inactivity.
Bring all options and designs you are interested in. Then, we will start to make it happen. By the end of the day, you'll have a complete plan and design, along with a quotation.
Below is our list of additional services:
Here is a list of our services you can get at Jupiter Elite Hardscape Team:
---