Pool Deck Installation Services for Jupiter Residents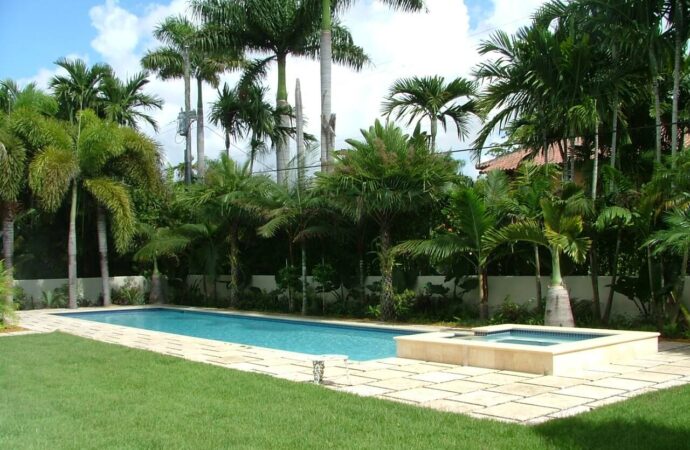 Imagine you want a space that is beautiful, safe, and fun for your family or anyone who has the chance to enjoy it alongside you or by themselves when visiting or when you invite them to a party or event. In this case, you probably want a pool where everyone can have a good time while also adding a pool deck that can complement all the adventure. Our team at Jupiter Elite Hardscape Team can help you get the latter by designing the perfect outdoors around your pool so everyone can just sit, lie down for a bit, and enjoy the experience.
You should not trust anyone to build your pool decks. This is because it must be built with care and consideration for safety, aesthetics, and durability. Hardscaping involves many steps, including the creation of new areas and the application of various materials. If they aren't mixed correctly and used properly, this can cause many problems. 
Therefore, before you can enjoy your pool deck, it is a mistake not to have a professional do it for you and handle the entire process of working with the pool decks you need in your property and outdoor living space.  
Jupiter Elite Hardscape Team will help you find skilled and reliable pool deck contractors who can handle your project. We have many of them available to you to bring you the best design and the safest pool deck in the state. This will allow you to add a pool to your outdoor space and make it accessible whenever you like while adding some lounge chairs and extra elements you want for the space to come to life.
We are proud of the work we do and the way we approach every project. We consider how the deck will look in your plan and how we can make it as enjoyable as the pool. We deliver durable, long-lasting results that will last for years. You don't have to worry about repairs or ongoing maintenance anytime soon, thanks to the materials we use and our skilled contractors.
There are many options available for pool decks. You need to take into account the weather conditions and space available before designing your pool deck. 
Concrete pool decks are a good option if the area isn't subject to heavy rains—frequently—and you have plenty of sunny days for clean installations. 
Concrete is the most common material used to build pool decks. Concrete types and their use can be changed during construction whatsoever, and how the design of the deck takes place will change a bit based on the requirements and design. 
Concrete decks are the best option for all Jupiter residents and those living nearby since they last a long time and are extremely durable while also being mostly accessible for all owners and individuals in the city.
You can combine any of these elements to create a stunning result that will last a lifetime. Concrete pool decks are easy to maintain and don't require recurring costs, but it will be necessary to ensure the design and inclusion don't bring any issues with your pools now and later on.
Now, when choosing a style for your deck or pool deck, durability and long-term performance are key considerations. We're happy to discuss the various options with you and explain why certain materials are better than others. We can help you choose and build your deck or style.
You Need to Hire Contractors
It can be challenging to build or repair a pool deck. Durability must also be ensured. This requires the highest quality materials and skilled contractors who can handle any kind of deck.
Pool decks require more knowledge and understanding than just the basic knowledge you gain from searching on the Internet. Contractors with construction experience are essential to ensure that clients get the best design and result, no matter how large or small the project is.
We work hard to make sure that each client has the best deck. A beautiful deck can be built with all the necessary appliances and lounge chairs and will last for a lifetime. We will accommodate your requirements and create the perfect deck for your outdoor space and pool.
Our job is to help you with the construction process but also to ensure you are confident in your design decisions before we begin. What does this all mean? We'll walk you through each step and give you all the details. We do this to make sure you are satisfied.
With this in mind, how far can our contractors help you in this process?
Get in touch with us for pool deck construction, maintenance, and repair.

We would love to hear from you about your concerns and preferences.

It is crucial to measure the space to determine the size and amount of workspace needed. It all depends on what you need.

We will give you a design, options, and materials. The estimate will include every detail.

We'll discuss modifications and reasons why some elements may not be preferred. We will also discuss which elements are best for you and what you absolutely need for your pool deck.

Once we've completed the steps, we'll decide if we can start work on your pool deck. We will also determine the best time to start the project, depending on your availability and preferences.

We handle all paperwork and permits necessary to build a pool deck. We work with neighbors to negotiate hours and how the project will be handled.

Every step in either building, maintaining, or repairing the pool deck will be handled by our experienced team in the industry.
Let's Get Started
Once you have made your decision, we can start working on your project to maximize your return and ensure you get the best out of the investment. We offer many options for pool decks, including concrete and pool decks. Before you make your final choice, we will provide more information.
We will set a deadline for you and help you to follow it. This is to ensure you get the space you require as quickly as possible.
We can also provide furniture for your pool deck and entire surface. You can call us or email us to discuss the details of this project. Visit our team to place your request or inquire about this project as well.
Below is our list of additional services:
Here is a list of our services you can get at Jupiter Elite Hardscape Team:
---