Commercial Hardscape Services for Jupiter Businesses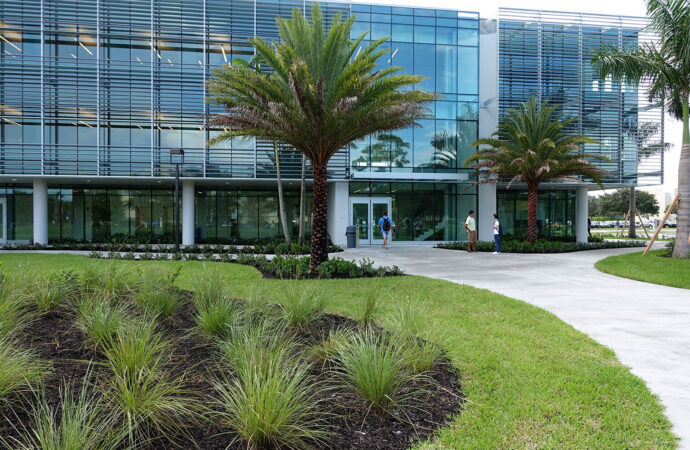 Whenever you go to a company or commercial property, you will notice how much owners effort in making sure their buildings look clean and properly designed so people would feel attracted to them. This is common practice as it is needed to attract clients, and part of working with enhancing your property is making sure your outdoors are perfect, that you provide recreational space for employees, increase productivity and create a relaxed environment where people can spend time with their loved ones. Outdoor spaces are a great way for companies to showcase their potential and tell others about themselves in order to attract clients. At Jupiter Elite Hardscape Team, our team will bring you and assist you through everything with commercial hardscapes that will exchange your property's outdoors and bring a new feeling for good.
Commercial owners often approach us with their projects and ideas in mind. We can offer different hardscape features for any type of project and help them achieve a result that is clean and unique. If you have questions or problems, we can help you design the space that you desire. We won't compromise on your design needs or make any concessions right away if you're not fine with it, but we can still provide you with the best advice and design.
There are many choices for hardscaping. Qualified and experienced contractors can help you design the hardscape that you envision and bring all ideas together to make your dream a reality. This will make it much easier to plan and implement all the features you require in the most efficient way possible.
We have the knowledge to install various features and make sure you are happy with the final product, no matter what design you choose or the features you want for your outdoor living space.
No matter what your requirements are, our contractors can deliver outstanding services regarding water features, pergolas and patios, and more than eight other features and services for commercial properties. We will make sure you are satisfied with the final result, so you have a clean and stunning hardscape for everyone in your commercial property.
Enhancing Outdoor Beauty for Your Business
Every item or feature is made to your specifications and needs. We can help you choose the right way to bring your project to life and ensure you won't have to provide much maintenance or invest too many resources to have your outdoors looking beautiful all the time.
Contractors will discuss your requirements and talk to you about what you want from your outdoor space. Owners and users have many ideas about what they want in a landscape design. We would be happy to remind you that lighting is an essential component of any landscape design and even when you're considering hardscaping features, as this will bring a great result for day and night that allows you to enjoy your space no matter the hour of the day. 
We are here to help you bring your vision to reality and to recommend features that you will love to have in your outdoor space so you can create a complete design that meets all of your needs.
It is our responsibility to make this possible. However, lend us a hand in the process.
First, make a list with all your needs and then create a layout. Also, we would like to know what the space is used for so that we can estimate the foot traffic and the number of people who will use your outdoor space.
In an effort to encourage outdoor activities and more enjoyment for employees, many office buildings have hardscapes. We need to ensure that there is enough room for everyone and that you have chosen the right features in terms of how they will be used.
It is important to understand everything. This is why we ask questions. After we have all the information, we can assess the space and determine how it should be divided. The layout will be designed, and you will receive an estimated price.
After you have approved it and made any necessary changes, our team will begin redesigning the exterior and working on your space so you can have the final outdoor living space design ready and open for enjoyment.
Our Job Is to Make It Possible
There are many features and options available for outdoor spaces, such as pergolas, firepits, and decks. We can help design your outdoor space and ensure that your commercial property looks great. Jupiter Elite Hardscape Team will help you install each piece, creating a paradise on your commercial property and ensuring everyone in the space can enjoy the experience of being there.
We can also help with walkways and driveways because we know how important they are. Many people forget or overlook pavers or how working on their surfaces is crucial. It's important to remember that without clear driveways and walkways that allow accessibility, you will have a hard time allowing everyone to get to your spaces easily.
We have assisted many commercial property owners over the years who wanted their driveways to be attractive and used by clients and workers.
It is important to consider both the most essential and less critical features of your hardscape. This is especially true if certain areas of your property are difficult to access with certain shoes. Clients, business partners, and anyone else will be able to access the various spaces and rooms through these driveways or walkways, regardless of their status and what they are wearing.
Our team can also handle other elements, such as pergolas and pool decks. These elements can be integrated into the overall design and bring a different style even when they're considered for residential hardscaping the most.
For commercial hardscape designs, contact us for additional features and additions. If you prefer that the whole space be completed by our team, we are happy to offer a complete service.
We are available to answer any questions you might have during the entire process. You will be able to enjoy your space for many years. It will also make it easier as construction and installation are handled by reliable contractors.
Below is our list of additional services:
Here is a list of our services you can get at Jupiter Elite Hardscape Team:
---