Outdoor Firepit Installation Services for Jupiter Residents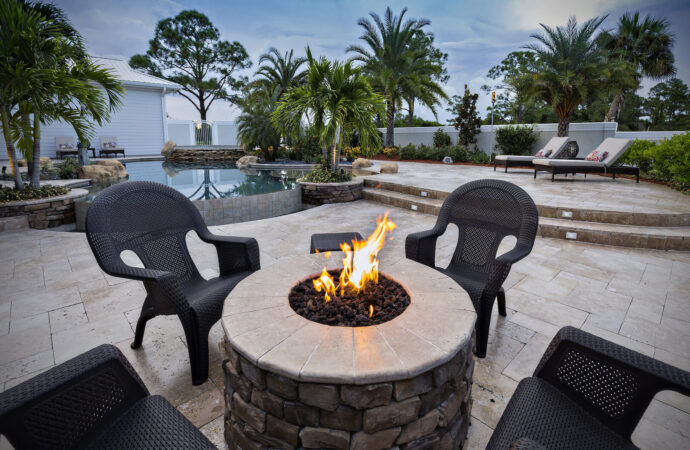 When homeowners want to improve their outdoor space or add new features to it, they often neglect outdoor firepits. Business owners and homeowners often focus on outdoor furniture or maybe the pergolas and regular hardscape elements. They consider whether or not they can build a deck, pergolas, or work on the whole landscape. Jupiter Elite Hardscape Team believe that outdoor firepits can be a great way of creating a relaxed atmosphere. They also allow you to cook and enjoy time with loved ones without worrying about the weather, and if you decide to go out at night and enjoy the space, you've worked hard to design and build over the years or right after you made the decision to invest time in it.
These firepits are a great way to share stories with family members and have fun. Enjoy the warmth of the fire pit and roast marshmallows with your children and visitors. This firepit can be used for many purposes, and we're confident you will find more than a simple use.
If you think about the possibility of having it in your space at any time, you will be more insistent than ever and will be happy about the recommendation. We know Jupiter's weather well enough to understand how important it is. We promise that it is a great and affordable addition to your outdoor living space, even when having a fireplace doesn't seem like a priority for your area.
You must ensure that they are properly installed and designed whatsoever. Some dangers could result in more harm than good over the long term. This is a field that our contractors have been working in for more than ten years. They are also familiar with how to place firepits outside safely and make sure you are safe while they're being used.
Many firepits are pre-installed. There are many options and styles to choose from, and not only the regular option of building it from zero. Sometimes, the outdoor firepit needs to be completely built from scratch, but it isn't mandatory, as it all depends on the space and how you want this feature to look. This will allow you to create a unique piece to match your landscape indeed, but if you are tight on budget or need another design that is simple, you don't have to wait until with build a brand-new one.
How Do Outdoor Firepits Work in Properties?
Each firepit needs fuel, and deciding which one you will use will often depend on the decision you make around this. Therefore, you should keep in mind that different firepits will require different fuels, so make sure you decide which one to get based on the amount of work you are willing to put into it. The size of your fire and the system used to achieve it will also play a role, and the entire design, as long as it is handled by our qualified professionals, shouldn't represent too much of a hassle.
Our team can design and build your firepit or system in a given time frame. This eliminates the possibility of fire-related injuries, unneeded fuel, and excessive heat as we work to ensure functionality, utility, and safety are all guaranteed while placing this new hardscape feature for you.
It will all depend on how your firepit was built and what fuel you use when you worry about the quality, and how it will perform over the long run. The traditional wood-burning firepit is preferred by many homeowners. This firepit does not require gas connections, and instead, wood can be used to fuel your firepit, so you have greater control over how hot and what kind of fire you want as you work with it, as if you were in the forest or during similar circumstances.
This method is both the most economical and the easiest to build your firepit. Just place the wood on the fire and allow it to burn, just like when you are camping. However, this firepit is not the most environmentally friendly.
Jupiter Elite Hardscape Team recommends natural gas firepits for those who don't plan to cook or are able to install one, as this will end up being affordable while allowing you to have the perfect heat at home. The heat and warmth provided by firepits are limited but prove to be more than enough in the regular case. 
You can have your firepit customized to meet your needs. Natural gas firepits are more attractive than wooden ones. They have a natural rustic look that lasts for a long time and will bring a different utility when it is time to make them operate or work.
If you don't mind firepits not looking natural or if they are easy to burn, you can use gel fuel firepits. It doesn't produce smoke and can be used for allergy treatment or prevention.
Although each one is different, they all share the same basic connections, with the exception of the first. We will answer any questions you may have or provide all relevant information to help you make an informed decision.
We Can Have All of Them Built for You
Our contractors can install and design any of the firepits. There are many options, and we understand it can be confusing, or you may have a hard time picking one. We are happy to discuss your preferences so that we can help you select the right firepit for you. We will then get to work making it happen.
We can provide advice and guidance to both homeowners and commercial property owners. We can help you get started or provide all the information you need to be successful.
Stone, wood, or any other material can be used to build your firepit. One of our stock models is also available and can be installed immediately after you receive it. We can do a lot for you. Contact us by email or stopping by, or feel free to call any of the numbers available based on your location.
Below is our list of additional services:
Here is a list of our services you can get at Jupiter Elite Hardscape Team:
---