Pergola and Patio Installation Services for Jupiter Residents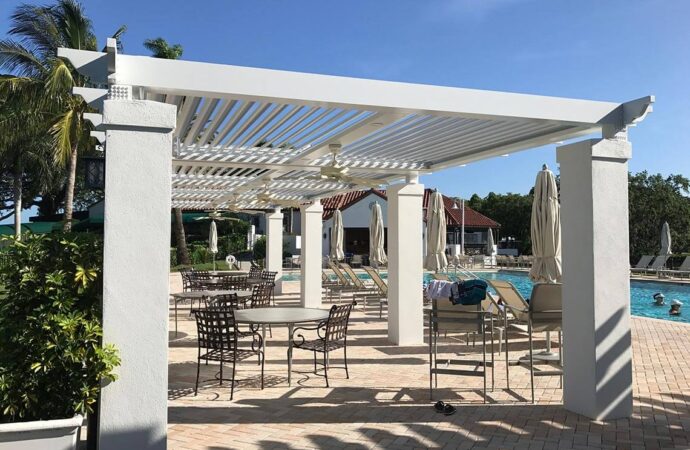 If you want your patios or pergolas to look great, it is crucial to choose carefully whom you hire or how you are going to tackle this project as, unlike what you might think, this can take much more work and time than you would expect, and experience will be a key point in ensuring the best results. It will affect how long the design lasts and whether it meets your expectations. For over 15 years, Jupiter Elite Hardscape Team has been installing and building hardscape components. We will make your outdoor space looks beautiful, so you can spend more time with your family, bring friends or clients, and have an enjoyable area with your pergolas and patios properly placed.
It is important to have the right tools and materials for creating pergolas and patios. Many homeowners feel pressured into buying the materials or working with the most affordable ones that seem to offer durability and longevity. However, being more expensive doesn't mean it is good, and being good doesn't mean it will be expensive. Our company offers top-quality materials and products, so you can rest assured that the future of your pergolas is in good hands, starting with the materials we use at low costs.
You can trust our team to guide you throughout the process. We won't let your down and will support you with more details while you make the final decisions. You will want to select the right colors and materials for your pergola or patio to achieve the best results. You must also decide how you want the project to proceed in terms of time and where you would like our team to be.
You can make a list of everything you want to see in your pergola. We can adapt your design to your requirements if you have examples. It is essential that you give examples and insight into your design vision, but not mandatory. 
Why Do You Need Our Contractors?
Contractors are often overlooked because they don't offer certain services or because people feel they're too expensive. However, hardscaping is not an easy task, and it requires experience and time when it involves everything about pergolas and quite specific structures.
Pergolas do not have to be placed in one way, either, so you have to worry about the structure, design, and quality. They can be placed however you like, based on the topography of the area and the desired design. The design and appearance of pergolas will vary depending on where they are located and what the client wants. It is crucial to know how to ensure that your structure can withstand any weather conditions and remains durable.
This is a lot of work, and contractors are the ones qualified to ensure you get a clean result that won't disappoint and will also be safe. Our team is here, and there's no need to hesitate to contact us.
Pergolas come in many designs. It can be difficult to create a stunning yet functional result. These can be modified to meet your needs or those of your outdoor space. This must be done within the limits and possibilities of the space where the pergola is to be installed.
Our pergola contractors have years of experience in this area and can help blend in with the surrounding environment. Not only are you not going to get people who will get you the most out of your investment, but experts that can offer a fresh perspective and ensure top-quality results. Our hardscape contractors will ensure that your outdoor space looks stunning.
We don't want the furniture to be disruptive of the overall design. It should be in harmony and complement the other pieces, whether they are planned or existing ones we need to work around with.
We take great care in designing your space and choosing the best materials for you. This is why we are a leader in the industry:
Only the finest materials and tools are used.

Contractors with over seven years of experience.

No matter who the contractor is, we must insure and properly equip them.

We focus on the client's needs and requirements, not on our personal judgment or preferences.
How Will Your Pergola Be Designed?
First, you need to choose the material and type of pergola. When choosing the right pergola, there are three choices or more than the pergola itself; you can choose the material. These choices can have an impact on the design and the result. They could also create a new feeling that could transform the landscape.
Many pergolas can also be customized to suit your needs in terms of color and size. You can paint your pergolas or use another material to make them last longer.
Our goal is to help you select the right material. This decision will often be influenced by the design you choose. Wood, for example, will have the same color as the standard, but it will have different tones depending on the wood type.
Composite and aluminum can be used in a variety of ways, including to make furniture. To create different looks, you can alter the color. Composites can be stronger than wood and last longer.
No matter what your preferences are, the final option and pergola are all available.
Our landscape lighting service will add lighting to your pergola for night events and other occasions. This can be done by professionals and included as part of your landscape design.
Pergolas are versatile. We can help you choose the best pergola for you and then focus on what you get by having it designed and built in a specific way.
All you have to do is call, email, or visit us. Jupiter Elite Hardscape Team will provide you with a wonderful experience and the best hardscape feature.
We want you to love this added feature. We are available to answer your questions by phone or email. If you have enough information, we can even provide you with an estimate. We will then discuss the steps necessary to create the final design, and we'll get to work.
Below is our list of additional services:
Here is a list of our services you can get at Jupiter Elite Hardscape Team:
---